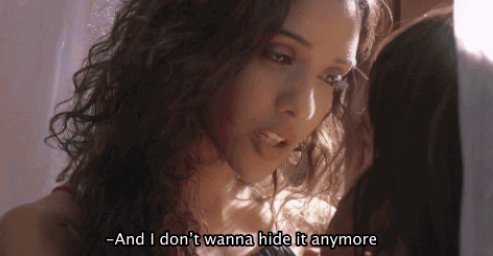 image source
There was a time when I was a movie buff, and almost any new good movie that released was a sure-shot puller. Things have changed a lot for me now.
Of course I do love movies still, and I make it a point to try and watch as many of those as possible, provided they are of my sensibility (you all know my Sallu craziness so for now I won't deviate there) ;)
Coming back to what I was saying earlier, there has been a change in my style of viewing for sure, and as I am getting older (let's read it as 'mature') I am definitely getting better at accepting, exploring, grasping and appreciating art forms in different styles.
One such art form that I seem to be loving a lot of late is the short movie genre.
Short movies are typically those step-children of our Indian cinema that may posses greater potential than their larger-than-life siblings, but are always at a loss when it comes to presenting themselves in front of a wider audience. Of course the general consensus is that those who watch short movies are the typical art movie junta (and I personally have no qualms about being called one, I love art films), but I also love many of the typical masala movies. It is still beyond my understanding as to why we have to get slotted towards a particular mind-frame when being 'allowed' to watch a movie.
Some time back I was really excited to read about the PVR collab where the movie theater franchise would partner with some of the best movie directors of the world (both full length and short features) and play them as part of their editor's choice movie selections. Sadly, the initiative is yet to kick off. I understand that as a money-making machine, movie halls always want to be sure of how much profit they will make when they showcase a certain movie. Maybe short films have still not given them that return. But that does not mean they do not deserve a showing. In fact, as someone who has been an avid short film lover for quite some time now, I feel that making a good short film is way more difficult than making a full length, as you have barely a three to twenty minute frame in which you have to squeeze in every part of the story, from character buildup to narration to connecting the past to the present and taking it ahead to the future, to developing a bond, to help the audience connect and even to take you into that realm where you can safely and very clearly start making your own interpretations. There is no doubt about it that the work a short film goes through is way more advanced than a full-length, even though the Indian audience has to grow up and understand the same, and stop missing out on some amazing work (movie owners, if you read this, know that there is a huge segment out there that is constantly watching short films, so go for it!).
I watched a few very good short films of late, and an ad sequel that I will put under the short film category. The first one I watched was an ad sequel that comprised of three short stories for the brand
Anouk
, the second one I watched was a short film titled
Yari Road,
and the third is a short film channel that I absolutely love watching, known as
Terribly Tiny Talkies.
1. The Anouk Ad
This one created quite a stir, but more so for one out of their three stories. The one that made to a lot of headlines was titled
#TheVisit
and you can read more about it
HERE
. For this article, I'll talk about the other two stories that went in the shadows but were really really good.
The first one that most people may not have seen is titled
#TheWait
and you can watch it
HERE
. It stars actor Gaurav Dwivedi and I am afraid I do not know the name of the lady who plays the waiting girl. What I loved about this very short story was that how it evoked a feeling of disgust, hate and pure anger in me, even though it was barely a three minute thing. And yes, it was such a 'real' situation, where I could see myself in the place of the girl, and all those moments came flashing by when I have been to a bar on my own, interested in having a beer by myself, not even waiting for anyone (or someone, as you will notice when you watch the ad), and some random and creepy guy tries to act smart. Such a real one and handled so beautifully. What I also loved was the fact that the character portrayed by actor Gaurav Dwivedi made me hate the character in all force, which is a good thing, because I am sure that is what he intended to do, to make the audience cringe when they saw the character that he played....In a sense its ironic, that he was so good in it that I hated it.....you gotta watch it to understand what I'm saying, so head on to the link I shared above. And yes, the line I was mentioning....waiting for someone? or anyone? ... you gotta check that out too.
The second story in the Anouk series is also amazing. It's titled
#TheWhispers
and you can watch it
HERE
. Again, it talks about common social perceptions in India, and how a woman can never just be the way she is, how she always has to adhere to the archaic norms set up by society, and how, all her life is only about the various roles she chooses to play, and definitely are not about her. I'm afraid I don't know the name of the woman who plays the mother.
The story features a young single mother who is a great mother to her daughter, but who is constantly judged by people around her in the society. Yet again this is very real, and happens with so many of us....but will perceptions ever change? Or will we ever grow mature enough to know that we are more than what we are slotted as. Maybe the change has to happen from us first before we expect it of anyone else. I loved the zesty spirit of the young woman who plays the mom, all my hugs for her ya....
Team Anouk - SUPERB on that one!
2. Yari Road
I first saw this one as a trailer, and have been fortunate enough to have seen more of it. It's currently doing the rounds of various movie fests and such, so may not be available for viewing, but if you get the chance, do watch it for sure. Check out the trailer
HERE
The movie stars Samrat Chakrabarti, Gaurav Dwivedi and Jatin Goswami, and the best part about it is that it is an improv movie, in which the actors constantly speak spontaneous lines and there is no bound script they have to stick to. Which made it all the more interesting to watch. The movie is some 20 minutes long, and revolves around three friends who are from acting school and who have now gone on to different paths in life. Two of the friends share an apartment on Yari Road (hence the name, as well as the entire relationship of friendship that is the main theme in the story, the word 'yaari' meaning friendship in hindi) while one is an NRI. It is when this friend makes a trip to see his buddies in India that the strains of their relationship or friendship come to the fore. One is successful, but the other two are still struggling, and every move made by the successful friend seems like an insult.
With emotions going high, the movie manages to capture the many essence of life as we live it today, amidst insecurities, tension, hectic routines, loneliness, depression, resentment and so much more. I love the real angle shown in the film, with all of it being shot on location. It felt as if I was standing right there in that apartment, in that balcony, and saw the friends trying to work through or pretend their way out of all that emotional upheaval and pretense.
I also realized that I have seen some works of Samrat Chakrabarti earlier, then too online, as I never got a chance to watch his movies on screen. I really wish our movie people would understand how important it is to appreciate and show such movies and make them available to a wider audience.
3. Terribly Tiny Talkies
I stumbled upon this gem of a channel a few days back as I was watching some other short films. And in the span of about the past three days, I have watched all of their short films....They are so good that I literally had to switch off my phone and finally sleep past 3 am! All their stories are, as the channel name says, terribly tiny, barely three to five minutes long, and are a must-watch.
If you haven't been there already, please click
HERE
- Debolina Raja Gupta
**************************************************
And like I always believe in and say:
"Heal the world we live in
Save it for our children" - MJ
Debolina Raja Gupta